Owing to a high level of commitment from local driving forces, volunteers and businesses, the Tromsø region probably has the country's cleanest coastline. "Of course, it's difficult to state it as a fact, but I dare to claim that," says Tromsø City Council's Climate and Environmental Adviser, Bo Eide, who manages the Ren Kyst (Clean Coast) project.
The commitment in the Tromsø region is huge and there are many people wanting to clean up the beaches. In fact, it's almost hard to find beaches with a lot of rubbish left to clear up. This all started back in 2010 when a spontaneous clean-up of one beach, Rekvika in Skulsfjord, signalled the start of the Ren Kyst (Clean Coast) project. Since then, several thousand people have participated actively in beach clean-up initiatives.
"The aim of the project was to draw attention to marine litter as an environmental problem, and to clean up about 45 reference beaches, which are mostly on the outer coast of Tromsø and Karlsøy. Moreover, the project would guarantee that people who cleaned up a beach, foreshore or islet could deliver the rubbish for further processing free of charge. These remain the cornerstones of the project, but the number of cleaned up beaches is probably approaching several hundred," says the manager and driving force of the project, Bo Eide.
The actual clean-up initiatives now take care of themselves, and there are so many wanting to be involved that it's challenging to get the logistics to run without a hitch.
"In 2019, we have had more volunteers than we needed and there are virtually no places left to send large groups to where they can make a useful effort. The beaches that haven't yet been cleaned up are reasonably small and hard to access," says Eide.
Coconuts and messages in bottles 
Most of the rubbish collected on the beaches is bottles, cans and equipment from marine industries. However, Eide says all sorts of strange things drift ashore onto the beaches.
"Nothing surprises us anymore. We find light bulbs, coconuts, which obviously come from tropical places, buoys from Florida, lobster traps and messages in bottles. Everything ends up here. It follows the Norwegian coast northwards with the Gulf Stream. It mostly drifts ashore during the winter. We find 10 times more during the winter months than the summer months," he adds.
"One of the most unusual things we have found is a message in a bottle from Oslo. We were able to trace it and it turned out it was sent 12 years ago by a girl who was on holiday in Asker."
For Eide, the most important of all is that the beach clean-up activities make a difference.
"It's possible to do something. Everything you can see in a wider context consists of small parts. Everything we have collected would have drifted to other places if we hadn't cleaned it up. It would have ended up somewhere else after the next winter storm."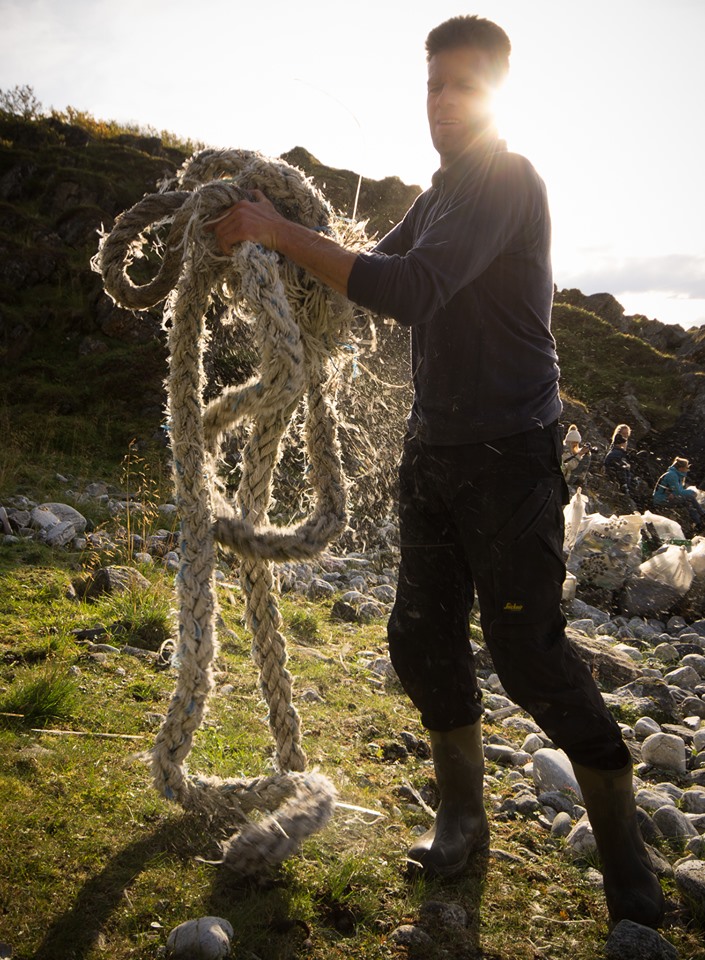 Bo Eide,Tromsø City Council's Climate and Environmental Adviser, at a beach clean up in September 2019. 
 
Environmental commitment
Consequently, it's gratifying that privately-owned tourism companies with boats want to help keep the region clean. One of the companies that puts environment high on its agenda is Pukka Travels.
"Our environmental commitment started in 2017 when we organised a coastal clean-up day with boats to reach inaccessible beaches. We had no idea what to expect when we brought together local volunteers, guests and other companies in the tourism industry and took them out on a day trip filled with cleaning up beaches, fishing and food, but it has been nothing but positive," says Henriette Hansen of Pukka Travels.
"That day marked the start of our corporate philosophy and has helped shape us into the company we are today. As a tour operator in Tromsø, it's basically the nature we are selling and living by. That's why it's so important for us to contribute. We have also noticed that many people have applied to work for us because of our environmental commitment."
The beach clean-up day has become an annual activity, and Hansen says there are so many people wishing to contribute that they now have waiting lists.
"People are very positive and want to contribute! We are very appreciative of that. We also have guests who want to take part and we think that's brilliant. Perhaps it's a bit strange that people travel to a place where they would rather pick up rubbish than sit in a café, but it's a win-win situation if our guests can have a nice day outside and make a positive contribution to the environment at the same time. By the evening, you are tired but satisfied."
Inspiring others to act
Hansen says their goal is to inspire others to act and show that small contributions also help.
"We want to create positivity around marine litter. When you mention marine litter, it often creates a bad atmosphere. It's easy to get disheartened, but we want to create a pleasant atmosphere around it. It's possible to contribute and actually make a difference. While the initiative may not be felt globally, it's of great importance locally. We have helped to clean up the entire strait of Kvalsund. It's a pretty big area. The first year there was a lot of rubbish and we gathered about three tonnes. The second year was much less. We 'only' collected 1.4 tonnes and this year we collected 850 kg. While it's still a lot, it shows that the work is helping," says Hansen, who also praises Tromsø City Council for its effort.
The tourism industry is often criticized for not being an environmentally friendly industry, especially destinations that most people fly to, but Hansen wants to focus on people contributing when they can.
"Private individuals can take a bag and pick up rubbish when they are out walking, while companies don't need to be certified as environment to contribute. You can take part in beach clean-up days, sort waste at work or introduce other small measures that help. With a little creativity, there are many initiatives companies can do."
Hansen hopes that their corporate philosophy can inspire others to act.
"Most people only come here once, but if we can influence the guests who come here to make an effort after they return home then that's really good. Hopefully, they will be inspired by the environmental commitment of the locals in this small, strange town in the far north that has considerable focus on preserving the nature," concludes Hansen.